MY KIDNEY TRANSPLANT BLOG,: PART I: 2020-2021

First Month Kidney Transplant Update, June 24-July 24, 2020
I was originally a candidate for a kidney transplant from a donor beginning in 2018, and even initially scheduled for a transplant in Ft. Wayne on November 5, but complications in the program at Lutheran Hospital, Ft. Wayne, eventually led to my being transferred to St. Vincent's Hospital in Indianapolis in January 2020. After a number of unexpected further delays primarily connected with hospitals in Indiana closing down surgeries because of COVID-19, I was finally scheduled for a kidney transplant on June 24 at St. Vincent's. Coincidentally June 24 was also the somewhat mysterious Noapte de Sânziene (Romanians will know what that means.) Both my donor (youngest son Paco) and myself came through the surgery well and my new only slightly used kidney started functioning beautifully and prolifically immediately. I was released on June 27, but had to go back in on July 6 to repair some herniated tissue near the main incision. This also went well and headed off any further complications from a hernia later...which would have been bad. I had difficulties getting in and out of bed early on which further stressed the incision. Part of the problem was that two days before the transplant, I injured the anterior deltoid muscle in my right shoulder which in effect left me one-armed and the less dominant arm at that. This was remedied by getting a mechanically adjustable bed, which allowed me to get almost vertical before rolling out of bed.
July 24 is now four weeks since the surgery. The incision is now completely closed and no longer leaks, seeps, or anything else, and does not hurt when I cough or bend over. The mechanical bed continues to facilitate egress and ingress from bed, for which I am grateful. The bulge on the right side where the new kidney was inserted has gone down to the point that I am now symmetrical on left and right. (BTW, the old kidneys are not removed; they will just atrophy away.) I like my doctors very much and am pleased with how smoothly St. Vincent's Transplant team works. The usual drill is to visit Indianapolis Mondays and Thursdays for the first several weeks, but a COVID19 benefit is that they were able to arrange for Thursday's blood draw to be done at Huntington Parkview Hospital and if there needs to be discussion of the results we can do this via video conferencing which has become commonplace to avoid COVID issues. This saves us one trip weekly to Indy, although at 90 minutes the drive isn't excessive. My fourth week visit with the doctors in Indianapolis was on Monday, July 20. The surgeons seemed pleased with how things looked and that basically I was back on schedule despite the second surgery. My numbers are good and the kidney functions at 4 weeks are where they hoped they'ed be at the end of 8 weeks. (For those who know what this means: my creatinine level is below 1.0 and the BUN is in normal ranges.)
I am eating a lot of stuff previously verboten (think nuts, cheese, TexMex and black beans), and seem to be tolerating the immunosuppressant drugs. I still lack energy by evening, but this is partly due to the presence of the anaesthetics in my system that will take some time to clear and party to my shoulder injury. This is gradually getting better (I can now eat with my right hand without noticing) and has a positive knock on effect that I am not at all tempted to lift more that 5 pounds which is my limit until the incisions heal up completely. As a result of the shoulder injury, I also now have a lot more sympathy for one-armed people. I am taking several long walks each day and enjoy the fact that in small town Huntington, one can actually walk several blocks without meeting anybody and needing to mask.
However, in the final analysis, all of this progress would not be possible without the loving and excessive caregiving of my Jean, who is also the family pharmacist (Jean: "Here take these pills." Me: "Really? All of these?") and dietician (as in: Jean: "OK, you've had enough of that. Eat more of this.") I frankly don't think things would go very well without such a competent and unflappable caregiver (not to mention driver since I won't be allowed to drive for a while yet).
And I am grateful to my family for their loving support, starting with my youngest son, Paco AKA Paul-Philip who was the donor (and is recovering nicely, already is allowed to drive, and has his next check up in six weeks) as well as my brother and my other son who also volunteered to be donors. (A nice fringe benefit is that we see Paco, his wife, and grandson Lowynn more frequently than anyone else since they are on the same quarantine regime as we are). The others—my siblings and our Nashville family— have been constant in keeping in touch, making special trips here to help, and so forth. Thanks guys. The same can be said about the people at College Park Church and Huntington University. Our Sunday School class has been especially close and encouraging.
I now realize that the actual surgery and post op were the easy part and that the following weeks will have ups and downs and will be a bit more of of a slog, but there is light at the end of the tunnel that isn't an approaching train. I will be semi-isolated until Christmas, especially because of the current COVID crisis, and won't be able to fly until sometime next year, but can get around and will return to a healthier new normal than prior to June 24. To all of my friends and colleagues, at home and abroad, especially those in Romania, I am grateful for your concern and support. Soli Deo Gloria.
Fifth Week Kidney Transplant Update, August 3, 2020
I had the 5th week+ checkup on Monday, 3 August. I had the stent removed and half of my staples. The rest will go next week. When they allow me to drive, I will know that I have gone over the required hurdles. My blood pressure is normal and stable; ditto my temperature and weight. The new kidney continues to function admirably and my creatinine level hovers around 1.0, which is excellent. The weather is exceptional for July/August so I am able to walk between three and four miles a day. A fringe benefit of living in small town Huntington (pop. 16,000) is that I can walk for a couple of miles in the morning and a couple more at night and not encounter anyone, thus maintaining my semi-quarantine. My injured right arm is improving day to day, and for some functions (like eating) I can use it without any appreciable discomfort. All in all, I am doing well. Thanks be to God. And thanks to you for your support.
Sixth Week Kidney Transplant Update, August 11, 2020
I had the 6th week+ checkup on Monday, 11 August, at St. Vincent Hospital in Indianapolis. The rest of the staples were removed successfully. Because of the healing herniated tissue, I will still have to be cautious about lifting and too much strenuous activity, but I can now bathe normally, I have clearance to drive a car, and feel better every day. My right should (the torn anterior deltoid) continues to be a problem, but helps me avoid lifting too much. The mechanical bed is a God-send.
Late summer is gorgeous and our flowers are in full bloom. I have upped the ante on walking and now do around three miles + (about 5 km) every day. Small town Huntington is great for walking because most streets are tree-lined and one usually doesn't meet anybody en route. Because my immune system is suppressed, I have to avoid direct sunlight, so I have SPF shirts and sleeves to cover my arms and a hat to cover my head and neck. Skin cancer is the Nr. 2 problem for kidney transplantees (following Nr. 1: rejection of the transplant), so I have to keep covered up and have a yearly dermatology exam to check for cancerous growths. I have never been very sensitive to sunlight, so I am hoping this aspect will go well, but with a suppressed immune system, ones biochemistry changes dramatically.
Blessings.
Seventh Week Kidney Transplant Update, August 18, 2020
We went to Indianapolis for the 7th week checkup on August 17, and the doctors were pleased with how the transplant is thriving. My blood sugar is up, mainly as a known side effect of the immunosuppressant drugs. The doctor isn't alarmed by this, but did suggest some dietary minimization of carbohydrates, a little weight loss, and a discussion with an endocrinologist.
The big news this week is that starting next week, we will go to Indy only every other week. Secondly, we will be doing only one weekly blood draw instead of two, and I can do this at our local Parkview hospital. Our next Indy visit will be August 31, which is a critical checkpoint in the recovery process.
I still have minimal use of my right arm and found that healing of a torn deltoid can take 4 months or more. The arm is getting better.
I continue to walk more that 3 ½ miles a day, which I actually enjoy.
Ninth Week Kidney Transplant Update, September 2, 2020
We went to Indy on August 31 for the ninth week check. My creatinine numbers are holding steady around 1.0, which is good, and my blood sugar number has come down: not quite normal, but close. Although I need to continue to monitor liquid intake (which must be at least 3 liters a day), I no longer have to capture and measure the liquids output, which is obviously more convenient. They adjusted downward this week one of the immunosuppressant drugs, so we are getting there. The doctors seem pleased with how things are going and I have more energy every day. This is a sign that the anaesthetics are clearing from my system. The goal is to release me to the care of my local nephrologist around mid-December, and we seem well on target.
The new routine is now established: Alternate Mondays we go to Indianapolis for blood tests and clinic with the doctors. I also have an excellent transplant coordinator who is quite reachable by eMail and responds quickly. The other Monday I go to Huntington Parkview for the blood tests, which obviously is much more convenient and quicker than Indianapolis. In fact, I usually am in and out in less than half an hour and it's another five minutes back home. We only do once weekly blood tests.
Interesting factoid: I had imagined that the immunosuppressant drugs permanently suppressed your immune system, but that is not the case. In addition, your immune system includes T-cells and B-cells, which I don't think are affected by immunosuppressants. The point is to adjust the immunosuppressants to keep the donated kidney from being rejected, but low enough so that your own immune system can resume partial function without harming the transplant. Until that point—which is projected for December—I will continue to avoid or minimize public exposure, but am allowed, for example, to go to Costco where the aisles are wide enough and everyone seems to be masked so that social contact is quite minimized. I'm not crazy about shopping as such (so this isn't much of a restriction), but do like to see what Costco has on offer from time to time. Easting out is problematic, but most restaurants now have carry out, so if I really want something exotic we can order it. More of a problem: can't yet visit any of my favorite book stores! Despair! Misery! Woe! But I'm finding plenty on Amazon, Exlibris, and ABE to keep me amused….and broke.
I am now free of most other restrictions, except lifting, which I can't do much of anyway because of the torn deltoid, which is getting noticeably better as time passes. (This will take several more months to heal.) Tomorrow I will drive Jean home from a visit to the orthopedist, which will be a first, though I have been allowed to drive as necessary for a couple of weeks now. Since I don't go out much except for walking, this hasn't been a temptation.
Waking continues to be a pleasure. The past week I was over 3.3 miles every day and two days was over 4.4 miles. I am enjoying looking at the varied architecture of Huntington around our neighborhood. Nothing as interesting as Romanian cities, of course (at least those that Ceaușescu didn't vandalize), but worth looking at anyway. And, contrary to prevailing mythology, no two houses in a couple mile radius of ours are identical. (By the way, I find both tiresome and ignorant the complaint of urbanites that small towns have cookie cutter houses: just how much variety is there in the layout of urban apartment buildings, other than the penthouses or dwellings of very wealthy people? Just more snobbishness and misplaced elitism. NB Joseph Epstein has an excellent book entitled Snobbery: The American Version [2002], which punctures a lot of pretentiousness.)
Pardon the rant. (And remember, you don't have to read this if you don't want to. And after all, this is my blog. If you don't like it, go write your own.) This testiness must be sign that I am recuperating enough to regain some of my customary cantankerousness and all round irascibility. That's progress in excess I would venture. However, dear friends, this grouchiness does not extend to you and your many kindnesses. I promise to listen to more Bob and Ray humor selections on Apple Music, which might alleviate the situation...or not.
Eleventh Week Kidney Transplant Update, October 12, 2020
The good news is that as of October, I have graduated with honors. (OK, I made that last part up.) I have completed the first half of my recuperation period (three months) and the doctors say my numbers are good and consistent and, therefore, I move to a less restrictive regime of treatment. My creatinine hovers around 1.0, which is excellent and means the new kidney continues to function very well.
I will miss the frequent hospital visits, however, since being asked several times on each visit for my name and birth date has helped me get these items firmly affixed in my aging memory (I have a nearly 90% accuracy rate on the responses: how about that?) (OK, I made that up, too. I don't really remember my accuracy rate. Ha, ha.) What I do remember is that my right arm is still healing, which will continue into the new year. It is noticeably improved each week, which obviously is encouraging, not to mention that I can use it more and more without flinching.
For the next three months (October-November-December), we go to Indianapolis only once a month for labs/blood draw and consultation, and do a once a month blood draw locally. So that means a total of two hospital visits a month for the last half of the regimen and fewer opportunities to get up at 4:30 to drive to Indy, which both Jean (my trusty driver) and I much appreciate. (I can drive, but Jean prefers that she drive to Indy because if we were in an accident on the interstate, the air bag blowing out of the steering wheel would hit me right in the ole transplant.) My treatment drugs seem to have stabilized and I have been taken off of the transplant diet and returned to the normal diet for people my age (good bye unlimited steaks: the regular diet "suggests" red meat only twice a week). I will have to watch calories and carbs as I now need to lose a few pounds and bring my blood sugar down. This means additional record keeping. (I will be consulting an endocrinologist on the blood sugar this month.)
As far as record keeping (and other matters), I need to express my deep appreciation and thanks for my home dialysis training with Davita. They were very careful to stress the importance of keeping a daily (practically hourly) log. They also emphasized (long before COVID19) the need to carefully wash hands in antibacterial soap, taught me the 20 second rule, and drummed into us the need to maintain sterile surroundings (disinfecting countertops, sinks, bathtubs, faucets, and shower heads). As a result, it was a breeze to adapt to the kidney transplant log keeping and disinfection routines, not to mention all the PPE that we have on hand left over from home dialysis, including a high quality scale and blood pressure monitor. My appreciation and thanks to Renee and the others at Davita Ft. Wayne, from the receptionist to the nurses and staff: you done good (as a colleague of mine used to say).
I am continuing to get the walking in: for the last three weeks, I have been walking between a minimum of 3.5 miles, but mostly 4 miles + a day. Fall has fallen, so it's getting a bit chilly early mornings and late evenings when I usually walk (so I don't have to worry about sun exposure), but so far it hasn't been unpleasant. However, we'll see come November and December how things are, when I will either have to walk inside or venture out during the day well-covered against the sun (remember, skin cancer is, after transplant rejection, the biggest problem for transplantees. BTW, I also had my first visit to the dermatologist to get an initial skin cancer check which was all clear. I will have to do this at least yearly).
Another Big Step Forward for me is after consultation with a neurologist, I may have started a regime that will keep the plague of restless leg in check. Can't be sure yet, but I am over three months without many actual restless leg symptoms. Praise the Lord!
You will notice an amazing number of -ologists above. I may need a psychologist if this number keeps going up! (This reminds me of my uncle who studied psycho-ceramics at medical school. This, for those in the audience who missed it or just didn't care) is the study of how to deal with crackpots.)
OK, I guess that very bad, but the inclusion of a classic Michelson family joke may indicate that I am running out of things to say, so I'll conclude with asking you to keep those cards and eMails coming: I enjoy hearing from you and appreciate your encouragement.
Fourth Month Update, November 3, 2020
Last week was the end of the fourth month since transplant and my visit at St. Vincent was excellent. My new (borrowed) kidney is functioning very well: creatinine level was below 1.0, which is first rate. My blood pressure is consistently in the 110/60 range, which is not only good, but maybe even slightly lower than they would prefer. They adjusted my medications accordingly. (Who knew that after decades of high blood pressure, which is what killed my kidneys in the first place, they would be mildly concerned with low blood pressure?)
My blood sugar is still a bit high, so they sent me to an endocrinologist who recommended a very low dosage of insulin daily. BTW: the insulin shot is completely painless, which is more than I can say for the twice daily finger sticks to monitor the blood sugar levels. The blood sugar readings are coming down after a week of treatment into normal ranges. So that's all to the good. Whether this is a permanent procedure or only temporary until my body gets used to the immunosuppressant drugs which are the main cause of this remains to be seen. I also had a visit this week to the oncologist as a followup to a slight marker detected in the run-up to my transplant at St. Vincent. The results were completely normal, so they will occasionally monitor it every six months or a year just to be on the safe side.
Two more months and I will complete the six month post-op monitoring and treatments. I have two more visits to Indianapolis, one in November and one in December and if all goes well, I will enter the more or less normal phase post-transplant. Under usual circumstances, at the end of December I would have been able to resume normal activities and diet (which was already begun last month), travel normally, and so forth. However, as you may or may not know (note the ironical tone here), we are not in normal times by any means. Because of COVID19, I will continue to avoid crowds, will restrict going out, will use PPE and require visitors in home to do the same, won't be able to fly, and all that because COVID19 is dangerous for people with compromised immune systems (that's me at the top of the list) and old geezers (me, again). Things will change when there is a COVID19 vaccine, but I will have to wait until it is validated as safe for kidney transplantees. My doctors were optimistic that come next fall, I might even be able to fly if the above happens, so I am getting my hopes up for a visit to Romania later next year unless things are once more closed down because of COVID19, vaccine or not.
A correction to a previous post, which indicated once the 6 month process was completed, I would be transferred back to my Ft. Wayne nephrologist. I will actually continue treatment permanently with St. Vincent, doing most of the blood draws in Huntington, but having a monitoring consult with them every few months. This suits me fine since we like the St. Vincent people and are confident in the level of care and expertise there.
BTW, my son AKA the donor is doing well. He also had a four month checkup and all is normal.
I want to take a moment here to thank those who volunteered to donate kidneys to me. All through this, I was never in the position of wondering how long it would take me to climb up the list to get an anonymous kidney donation (which in this area takes 3-5 years, and that is below the national average). I was on the list, of course, as a fallback position, but generous Christians and family were always there for me. I have to mention here Hannah from our church, bless her, who out of the blue offered to be considered, but for various reasons could not proceed. Then there was my brother, Joel, who was an almost perfect match (what else?), but turned out to have a kidney stone in the preferred transplant kidney. Subsequently, my oldest son, David, stepped up, was a good match, and went all the way through the months of testing until the last test, which although acceptable, was marginal and the doctor thought it might be too risky for him later on if he had kidney complications. He was rather disappointed, having already picked out reading matter to indulge in during recuperation. And obviously he had invested a lot of time in the testing process. Then my youngest (oops, and the only son left), Paul-Philip AKA Paco, leapt into the fray and we started the process all over. He proved to be a good match, and passed all of the tests, was told he needed to lose some weight, proceeded to lose forty pounds, and we were ready to go in September 2019. (And I still had one more volunteer donor, Bryce, standing in the wings if necessary. Thanks, Bryce, who was a former student but apparently didn't hold a grudge. Ha, ha?) I am deeply sincere that I can't thank enough all to my potential donors.
Let me urge all of you out there in the semi-real world to consider becoming a living organ donor, or at least have an organ donor provision in your Advanced Directives for your physicians and hospital. (You DO have a set of up-to-date Advanced Directives, don't you? If not, why not? It doesn't take long and might save a life.) Contrary to popular belief, kidney donors rather than than shortening their longevity, actually live longer than non-donors. So extend your life and someone else's at the same time. (OK, there are some risks that shouldn't be minimized, as with any surgery, but my two sons are much healthier as a result of going through the donor process than they might have been otherwise.)
However, after a few more glitches including a postponement following being scheduled for a transplant on November 5, 2019 (almost exactly a year ago), the untimely though temporary closing of Ft. Wayne Lutheran's program in January 2019, a timely transfer to St. Vincent Indianapolis (the top-ranked kidney transplant hospital in Indiana), assisted and facilitated by Ft. Wayne Lutheran, and finally the inopportune advent of COVID19 which shut down hospitals in Indiana from March to June 2020, we finally arrived at the big day, June 24, 2020 and got the job done at the expert hands of Drs Ghoneim, Cantafio, and Moiz working in side by side operating rooms, which meant that the time between removal of the transplant kidney from Paco and transfer to me was at a minimum. This was good because it meant that the kidney did not "go to sleep," but started functioning almost as soon as it was hooked up. (A kidney donation from a deceased donor usually means that the kidney does go to sleep, which can result in complications.)
And here we are, four months+ down the pathway to what looks like it will be, God willing, a highly successful conclusion to the transplant process. I have even driven by myself into Ft. Wayne to the oncology office, so Jean is beginning to get some relief as 24 hour caregiver. Who knows? One day I may be able to take care of myself (mostly). Our 53 year plus partnership continues, for which I am grateful.
Fall has fallen, which is going to make my daily walking sometimes problematic when it rains or snows. I have been out in 32° F/0° celsius bundled up and have kept pretty warm, so when its good weather but only cold, I should be all right. The leaves were pretty good this fall, but with freezing weather at night, alas, are almost all gone.
You will have been happy to note that I have refrained from even alluding to you-know-what coming up in November until now...and I intend to keep it that way. Don't ask.
To all of you who have persevered this far, thanks for eMails, cards, calls, and other ways of sending your good wishes. We appreciate it.
Fifth Month Update, December 20, 2020
Actually I am now just couple of weeks away from my Sixth Month update, but nothing particularly spectacular happened between my November 3 visit to St. Vincent and my November 30 visit (which was the Fifth Month visit). My numbers at the end of November were pretty much as expected, my medications seem to have balanced out, and we continued to work on my blood sugar. Since then, I have lost a couple of pounds and have been watching calories and carbohydrates (look for this to go off the rails during the holidays). Things look good for my Sixth Month clinic, which is now scheduled for January 4. My injured right shoulder is healing: it functions about 80% these days. It gets better on a weekly basis.
To while away the time, I have compiled a listing of signs that might characterize a successful kidney transplant patient. You might find amusing the pdf of these "15 Signs of a Successful Kidney Transplantee." (Or you may not, but you don't have to read it if you don't.)
In the meanwhile, we had a nice Thanksgiving, November 25-27, as David (and his family) came up from Nashville to celebrate at a slightly lesser distance with us than usual, and with our Ft. Wayne son, Paco (and his family) so that the Michelson clan could be together for the first time all COVID Year which started for us around my 75th birthday in mid-March (what a rotten birthday present. Of course, the transplant in June could be considered a delayed gift, so I'm not complaining). The Nashvillians stayed with the Ft. Waynians to avoid possibly spreading or contracting COVID19, but we met on the 25th at their church hall in Ft. Wayne, and the afternoon and evening of the 26th at our church gymnasium in Huntington. In both venues, nearly a dozen of us could maintain social distancing of 20-25 feet (7 meters) in fairly high-ceilinged spaces. We wore masks except when eating, but the susceptible old codgers, AKA the family patriarchs, were across the room from the rest of the clan. Ft. Wayne produced a marvelous Korean meal on the 25th and Huntington provided an American-style (more or less) meal on the 26th. A special treat was that our oldest grandson, Simeon, now attending university in California, was able to fly back for the holiday. A good time was had by all, with the usual Michelson argybargy. Despite the masking, distancing, and other precautions, we had a lot more fun than one would have suspected, though, of course, when nearly a dozen Michelsons get together in a single location, one shouldn't have been surprised that we had fun. We managed to keep the chaos down sufficiently that local law enforcement officers were not summoned by the neighbors, at least not to our knowledge. And, naturally, the star of the show was the youngest grandson, Lowynn.
The other event of note was that my last blood draw on December 14 was the first one in memory that showed every single category in normal ranges. My blood sugar is now where they want it, my creatinine is excellent at 1.15, and my BUN is at 21. And surprisingly, this fall I have not been hit by most of the usual seasonal afflictions: it's amazing how few colds, flu, and so forth one gets by just staying at home in isolation and minding ones own business. We'll see if we can keep this up, but overall this is pretty good news.
We are now in the midst of the Christmas season, which because of COVID19 is a little peculiar, but rewarding none the less. Since we are more or less healthy, we have revived a few family traditions that had been in abeyance for the last few years, which has been fun. In addition, we will be able to celebrate Christmas twice this year: once with our Ft. Wayne family on December 24-25; then again in January in Nashville, when we hope, Lord willing, the whole gang will be together (the socially distanced type of togetherness).
For now, we wish all of you a Blessed Christmas and a profitable COVID19-free new year. 2020 was tough, so it shouldn't be too difficult for 2021 to be better. On the other hand, certainly there were likely high points for all of us in 2020 if we care to ponder on it. There are those who are urging all of us to burn all our 2020 calendars. This might be going a little too far. In the end, we cannot ignore history; we need to learn from it.
This time of year also reminds us that we have much to be grateful for if we look at the Big Picture, as J. R. R. Tolkien suggests in the following excerpt from his 1936 poem, "Noel," which he published in his old school annual, but which had been "lost" until recently:
'The world was blind
The boughs were bent
All ways and paths were wild.
Then the veil of cloud apart was rent
And here was born a Child….
The bells of Paradise now ring
With bells of Christendom
And Gloria, Gloria we will sing
That God on earth is come."
Best.
SIXTH!! Month Update, January 6, 2021
The big day arrived on Monday, January 4, without incident. This was the critical sixth month checkup at St. Vincent. Under normal circumstances, following this I would be able to rejoin the human race. Under normal circumstances, but, as some of you may have noticed, we are not living under normal circumstances, so I will continue under a quarantine, albeit somewhat less restrictive. We left early for Indianapolis because of predictions of bad weather, but it was clear and above freezing, so we arrived 30 minutes early for the blood draw, even though for once we (I was driving) scrupulously adhered to the speed limit. The clinic visit was uneventful since all the blood numbers were as expected. My coordinator said my progress was the best of their current group and he wished he had as few problems with the others as with me. Still no word on when the vaccine will be available to transplantees, but once they get enough data on side effects and possible adverse reactions with various drugs they will be able to decide: maybe February, maybe March… My next clinic visit is in March. The good news is that next time I can do the blood draw here on the Saturday prior and not have to drive to Indy in early morning, but can leave at a respectable hour for the 10:45 clinic. (Just watch: we'll have a blizzard during the night and have to leave early any way. However, if bad weather is forecast, we will just drive down Sunday night since my insurance pays not only for the travel, but also for hotels if necessary. So there…) All in all, another landmark passed without a hitch.
One piece of good news is that my caregiver/wife Jean will be able to get the vaccine during the next month, so she will not be quite as leery of being in crowds of careless people going about without masks or with their noses uncovered. Also, my donor/son Paco got his first shot this week because as an autism counsellor and teacher, he is considered an essential worker.
At this time of year, people are fond of making resolutions and looking both backward and forward, possibly in honor of the Roman god Janus. I made my traditional resolution, which was not to make any resolutions. Why? Because, when it comes down to it, January 1st is no more significant than June 1st or October 1st. My aim, for those of you taking notes, is not to bounce back from the experiences of the last year, but to bounce forward. Doesn't that make more sense? I have been able to resume writing projects and other interests including the C. S. Lewis and Kindred Spirits project in Iași, which is really very exciting. Since usually I don't have to be anywhere in particular, I can carve out blocks of time to work on such matters. However, I continue to be busy sorting and filing stuff, which seems to be an endless process. I will soon acquire two more filing cabinets which will help. Less on that anon. Once the mess is cleaned up, I will be able have clearer access to my library and can get down to serious work.
In the Gospel of Matthew, Ch. 6:25-27, Christ says "I tell you, do not be anxious about your life….which of you by being anxious can add a single hour to to his span of life?" Concerned? Yes. Cautious? Yes. Foresighted? Yes. Anxious? Definitely no. Christ points out that life is much more than material or physical things. Instead, we allow ourselves to be distracted from what's really important in life, and as a result, in the words of Thoreau, "lead lives of quiet desperation." Let us receive joyfully and gratefully the grace of God, and become a light and a fragrance in the lives of those around us, and, in the words of the Apostle Paul, when we refrain from being anxious, "the peace of God which surpasses all understanding, will guard" our "hearts and minds in Christ." (Philippians 4:6-7) I hope you can join me in bouncing forward this year and every year that we are given.
Thanks for listening.
Seventh Month Update, February 13, 2021
This week, on February 8, I had my Seventh Month blood draw to see if things are continuing to progress since my January 6 blood draw and Clinic visit (which, as noted above, was a key check point in the transplant process). This week's results were on a par with January, meaning that things continue to go well. They adjusted downward my dosage of Prograf (one of the immunosuppressant drugs); otherwise same old same old. Put another way, no news is good news on that front. Boring is always better in these cases.
The big news was that on the same day, St. Vincent gave me the go ahead to get the first COVID19 vaccine shot, concluding that no evident side effects had surfaced so far and that, therefore, it would be healthier for me to get the shots rather than not. (Their judgement is that anyone more than three months past transplant should now go ahead.) I was a little concerned that Indiana has now widened approval for shots to 65 and older and that I would have to go to the end of the queue. However, that afternoon, I went online on the Indiana vaccine website and found that I could get the shot the very next afternoon, which I did on Tuesday. The shot I got was the Moderna mRNA variety which, like the Pfizer-BioNTec version, does not contain live viruses. This is important for transplantees. I experienced only mild soreness at the muscle injection site, though people say the second shot tends to produce more reactions. The main Moderna contraindication is that it should not be taken by people with a history of known severe allergic reactions (anaphylaxis), which I do not have. Moderna takes 14 days between shots to become fully effective; Pfizer is only 11 days. On the other hand, Pfizer has to be stored at extremely cold temperatures, whereas Moderna doesn't. (For those of you taking notes, you can see the Moderna fact sheet here.) I am now scheduled to get the second shot on March 11. Once it becomes fully effective (March 25), we plan soon after that to be off to Nashville for Easter. Jean got her first Moderna shot last week, so she will be done before I will. My donor, Paco, was considered an essential worker because he is an autism counsellor and so he has already finished both shots.
The distribution of vaccines has been pretty smooth in Indiana, possibly because they have been planning the distribution process for more than six months. I registered online, showed up at 3:20 in the afternoon and within five minutes was getting the shot. They then keep you for 15 minutes or so to make sure you aren't having any reactions and I sailed back out the door at 3:39 and was back home by 3:45. Indiana has been on a COVID19 downtrend since mid-December, which is good. Interestingly, the two lowest % groups of COVID positives are 70-79 and 80+. Maybe there are fewer of us over 70 to start with.
In other January news, we were happy to celebrate a later than usual Christmas with the whole Michelson clan on January 15-17. We made the same arrangements as in November: the Nashvillians stayed with Paco in Ft. Wayne and did not come to our house; we spent one afternoon and evening with the Ft. Waynians at Paco's church's hall and another at ours. A jolly time was had by all and the weather was pretty fair for January. And we have all stayed healthy since. Being unable to go to Nashville to visit is probably the greatest inconvenience that COVID and the transplant have caused us. We don't really have anything to complain about, certainly not nearly as much hardship as a lot of you and others have had.
Now, we are "enjoying" renewed winter. We have about 10 inches of snow on the ground and tomorrow it is supposed to be single digits Fahrenheit (about -15 Celsius). How fun! On the other hand, the main streets and highways are clear and mostly we don't have anywhere to go anyway, except the grocery store, pharmacy, and occasionally over to Ft. Wayne to see Paco and his family. We hope you are keeping warm and, especially, healthy. Remember to keep bouncing forward. There appears to be light at the end of the tunnel and, hopefully, it isn't that of a train coming toward us.
Best.
Eighth Month Update, March 11, 2021
This week, on March 8, I had my eighth month clinic visit at St. Vincent Transplant in Indianapolis. Dr. Moiz asked me how I felt and I said "Pretty good." He replied, "Well you should be feeling terrific. All of your blood and kidney numbers are great!" OK, so change that to "Terrific." He wants to bring my blood pressure up slightly (note to self: and all these years we've been trying to bring my blood pressure down!). The transplanted kidney is functioning exceptionally well, my blood test numbers are within normal ranges, and my endocrinologist is pleased with my blood sugar levels. I would like to lose a little weight, but they seemed unconcerned about that. All in all, a good visit and remarkably short at that, which I also take as a good sign.
It also means that this blog entry will be somewhat shorter, especially if I refrain from editorializing about this and that. But to avoid cancel culture, I'm going to do just that.
By coincidence, TODAY IS INTERNATIONAL KIDNEY DAY. If your kidneys are functioning well, be grateful. Try to avoid high blood pressure and/or diabetes if you want them to stay that way. If you have kidney disease, try to modify your diet. There are plenty of suggestion in the internet. If you have Stage 3 or Stage 4 kidney disease, start looking for a transplant program. If you can get a transplant prior to going on to dialysis, your chances of a successful transplant are improved, so don't wait until you have Stage 4. Lastly, CONSIDER becoming a kidney donor. Giving up a kidney if you are in general good health (which the screening process will determine) does not affect your health in any way. Certainly a transplant operation is not to be taken lightly—both for the donor and the transplant recipient—but these have been done so long that they are generally quite without incident. INTERESTING FACT: studies of US military donors (which is a very large sample) demonstrated that kidney donors actually have greater longevity than non-donors. This possibly owes in part to the thorough medical workup involved which might alert you to health issues long before normal medical checkups would surface them, but the longevity factor is real. And get the process started early: it may take as much as three months to go through all the screening procedures for donors. CELEBRATE INTERNATIONAL KIDNEY DAY BY THANKING ANY DONORS YOU MAY KNOW AND, AGAIN, THINK ABOUT VOLUNTEERING TO BECOME A DONOR YOURSELF.
This afternoon I got my second COVID19 shot. I'll let you know next time about side effects. I'm certain you will all be awaiting this with abated breath. Jean has already had her second shot, so we are almost ready to go. Two more weeks to full immunity for me and then it's off to Nashville for Western Easter (April 4). Just to demonstrate our ecumenical fervor, we probably will return for Eastern Easter (May 2). We hope the whole Indiana/Tennessee Michelson clan will be able to gather. (The Nashville people are getting vaccinated next week because their household has a person with a compromised immune system.)
Huntington County this week had a yellow metric score of 1, just above the blue cutoff, and a positivity rate of 4.9% which is in the blue register. Both of these are on the downward swing. Most of the state is now in the blue. Our church has resumed live services and plans three services for Easter. The prediction by a Johns Hopkins scientist that by April life will begin to approximate normal (what the heck, "approximate the new normal" as we are fond of saying these days) looks increasingly possible. We shall see (another abused cliché: of course we shall see, since time moves forward, other than in science fiction).
Warm weather is here, near 70 this week°, and we have been able to resume walking outside. Just in time, as I was getting a little bored riding a stationary bike, even though I could read, watch TV, or think great thoughts while doing it. Today we have had a little rain, which is much needed which will clean away the dust and dirt left by melting snow.
All in all, a good week for us, and next week will be even better as we will be celebrating the Michelson Month of Birthdays on March 17th. Grandson Lowynn will be 2 years old on the 14th ; Jean and I celebrate 76 years on March 16th and 19th respectively; and Paco—our son, jovial donor, and all around good guy—will be 39 on March 30. (My late father was born on March 31.)
We are saddened to hear about numerous friends who have not been as fortunate as we have: some with severe cases of COVID, others that have passed away either from COVID or natural causes, others with extremely difficult medical situations and issues, yet others with economic and personal problems. Our prayers are with them and with you. May God be with all of us as He provides His grace, mercy, and healing power. Soli Deo Gloria.
Tenth Month Update, April 24, 2021
Last week, on April 24, I celebrated the tenth month since my Kidney Transplant on June 24, 2020. My next clinic visit in Indianapolis is May 24, which will be the eleventh month checkup. For the tenth month, I just did a blood draw at Huntington Parkview with excellent results. My creatinine level was at 1.01 which is great—since it means the semi-new kidney is functioning in high gear—the BUN was at 22 and the GFR was 72, both good. My blood sugar was at 109, which is nearly normal. I think I need to lose a little weight, but will see what the St. Vincent dietician says in May.
Since we and the Ft. Wayne people are now fully vaccinated and the Nashville people are partially vaccinated, we were able to take an Easter trip to Nashville, where we celebrated with David and his family. We were joined by Paco and his family, so the whole clan was together. In Indiana, the curve is downward, with Huntington County now at blue, the lowest rate, with a weekly metric at 0.5. Other places, such as neighboring Michigan, are not so fortunate.
Our big project for the next three weeks is to move several thousand books from storage at the University since they are going to demolish the building where they currently are. Some I will move to the Emeritus Professors Office in the Library and the rest will come home. This will have to be done by May 17. David came up last weekend and helped me (or rather I helped him) put up over 20+ new shelves at home which I got free from the building slated for demolition. The Maintenance crew did all the heavy lifting to bring them over here and put them on the front porch. They will also move the boxes of books when they are ready, so our main task is to sort and shelve. Fortunately, my right anterior deltoid is at about 95%, so I can do things that I couldn't do two months ago. We will get the job done, though there are some distractions in May.
What distractions you ask? Two of the Nashville kids are in a play, "Meet Me in St. Louis," May 6 and 7, so we will go down for that. May 14 I will be giving a presentation to the InklingFolk Fellowship ZOOM meeting on "C. S. Lewis and the Death of Charles Williams," which occurred on May 15, 1945. Then our second oldest grandson, Joel, has a graduation party on May 22 and his Eagle Scout ceremony on May 23, so we will be back down there for those. Also in May our taxes are due, which because of the transplant, are more complicated this year. And our flower and veggie gardens need to be put in some time soon, at least once we think it won't snow. Speaking of snow, we actually had snow on my 10th Month Transplant date, April 23-24. Then this week the temperature got up to the 80s; today they were back down to the 50s. Actually pretty normal for Indiana. We are going to get daring and take the electric blanket off of the beds this weekend! Lastly, this summer I hope to get a lot more pdfs of my articles up on my web site.
For those of you in Orthodox countries, this weekend is Easter. Paște fericit! Hristos a înviat!
Interesting reading this week: the The Autobiography of G. K. Chesterton. Fun and full of typically snappy Chesterton quotes and thought-provoking ideas.
That's about it for this interim report. Hope you-all are staying healthy and safe. Deus te benedicat.
Eleventh (almost 12th) Month Update, June 21, 2021
Summer Begins Today! Although I'm a little less enthusiastic about summer than I used to be because of the threat of skin cancer for transplantees (see below). This means that I have to avoid direct sunlight for most of the day. However, we do have a garden in and lots of

flowers and there is usually plenty of shade and the air conditioner works well when it's too hot to be outside and there are always more books to read, so ENJOY SUMMER!
This update is a little late, so we need to start with a Spoiler Alert. This coming week, June 24, 2021 will the 12 month anniversary of my transplant. Interestingly, I won't have any check ups on this date. I had my 11th month consult May 24 in Indianapolis; I will have my next blood draw on June 26th and then my next clinic on July 26. My May 24 consult went very well. My blood tests are in normal ranges and they adjusted downward slightly one of my immunosuppresant drugs. The big news is that my key kidney number, the creatinine number, is actually better than normal (0.95; with 1.00 to 2.00 as the normal range). I would like to lose more weight, which has stayed pretty much the same for the last six months. They weren't very interested in that, but did agree that I could raise my daily steps total from at least 5,000 to at least 7,000. Since then I have had over 8,000 steps (3 ½ miles) most days.
The new walking regime has led to changing my winter routine to a new summer routine. Last year through fall, winter, and spring, we tended to sleep in until I needed to eat breakfast and take my morning meds. Then I would mostly walk in the evenings when the Ultra Violet (UV) rays are low. These—as you will recall—can cause skin cancer and after kidney rejection are the second greatest problem/concern for transplantees. What kind of UV rays are there, you ask? (You didn't ask? OK, skip down the next paragraph.) There are UVA, UVB, and UVC. UVA are longer wavelength and can penetrate to the dermis or to the middle layer of your skin. This is bad. UVB rays have a short wavelength that only reach the outer layer of your skin, the epidermis, still unhealthy, but not as dangerous. UVC is the highest energy level, but is blocked by the ozone layer of the atmosphere (yes, my friends, the ozone layer is still there. Not to be confused with the Moldovan Romanian pop group, O-Zone, famed for their hit, "Dragostea din Tei," AKA "The Numa, Numa" song. You can find videos on YouTube).
In Winter and Spring, we usually went to bed after midnight. The new routine is to get up at 7 AM, take my early morning pill, and then go for a walk of at least 5,000 steps while the morning UV is low (that is 2 or under; this usually goes up after 9 AM). Main meds at 9 AM and a pretty normal day thereafter. In the evening, I try to get the day's steps up to 8,000 or so (Jean usually accompanies me on the evening walk), and turn in around 11 or 11:30, though later still seems to still be the norm.
Huntington County's COVID19 rate continues to be at the lowest level, which is good, since one is less likely to meet someone with COVID. We have been going out a bit more to eat and shop, and last weekend we drove to Wisconsin for a nephew's wedding. It was outside, so we didn't wear masks at all. We are able to attend church for the first time since March 2020. And at the end of this month we will return to Nashville for our second grandson's Eagle Scout ceremony.
The one fly in the ointment for the time being is that there is some evidence that people with suppressed immune systems (such as kidney transplantees) may not be producing antibodies even though they have had the vaccine. Further study is needed, particularly with regard to whether they should get a third shot. However, other immune defenses, such as the T-cells and the B-cells are there, so I'm not defenseless against COVIT. My transplant team said we will more or less be following the pre-COVID guidelines for kidney transplants, namely stay away from people who appear to be sick, socially distance, and wear a mask if you can't socially distance. I asked what the prognosis for our planned trip to Romania in the fall might be and they said at this point we could still plan to go. So we still have to be careful and use common sense (of course, common sense isn't very common anymore, but…). By the way, I was able to "go" to Romania the weekend of June 4-6 to participate in and give a paper at the Xenopol Institute of History's Annual Conference. This is one small benefit of the COVID crisis in that thanks to ZOOM we can "attend" conferences that under normal wouldn't be possible to go to in person.
Instead of a one year clinic, on June 26, I will do a blood draw locally. Then on July 26, we will go to Indianapolis for the next clinical visit, which will officially be the 13th month. As we near the end of the first year AT (after transplant) things look good, I am in a fairly simple meds regime (7 AM; 9 AM for the most important ones; 7 PM; 9 PM again for the main drugs; and once during the night. And the most I take at any one time is six smallish pills). I am not getting up at night as often, usually once or twice, but since I have a pill to take during the night, that's all to the good. My kidney functions continue to be superlative, my appetite is (too) good, my blood pressure and blood sugar are mostly normal, and my temperature is usually under 97º.
It has been good to see more friends and relatives, especially grandchildren, and to be able to get out as needed or wished. We were able to attend in-person church and Sunday School yesterday for the first time since COVID struck. A sort of normality is returning. Perhaps the scourge of COVID19 is on the way out: still dangerous, but along the lines of influenza, where a yearly vaccination helps mightily. Our hearts go out to places like India and parts of Africa where the toll is still going up, but, God Willing, this will come under control as well.
I will be back sometime after June 24 if there is anything interesting to report, but likely I wait until after the July clinic visit to Indy. I hope to see more of you in person soonish; you can regard that as a promise or a threat as the case may be.
Latest Update
One Year Update, July 26, 2021. CELEBRATE!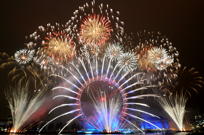 ONE YEAR is an important watershed date for kidney transplants. If the transplant has made it this far, things are looking pretty good. Actually, the one year milepost was passed on June 24, but my one year clinic visit to Indianapolis was this week on Monday, July 26. Both Paco, my donor, and I went down to St. Vincent, I for my regular quarterly checkup and Paco for his six month check.
The benchmarks were passed with flying colors (whatever that means). My creatinine level is at 1.07 (normal range: 1 to 2, lower is better), so my previously owned kidney is functioning at a high level. My other numbers look good, though I am still working on getting my blood sugar levels down and maybe start losing a few pounds. They took me off of one drug, so that's fewer pills to take. I will go back to Indy in October for the next check, with an interim blood draw in Huntington.
To CELEBRATE, We declared July "THE MONTH OF GIFTS" in Paco's honor, including books (what else?), new work gloves, various exotic food items, lunches and dinner out, and other classy stuff too numerous to mention. Did I mention books? (BTW, for those of you taking notes, I think the Romanian Communists tried to transform Christmas into the Month of Gifts, with limited success as the Romanian population stubbornly held onto their Christian heritage.)
My stomach muscles are pretty much non-existent what with the surgery and all, so that's something I will now work on. My back had been a bit sensitive from shifting all those books in May and June, but now is feeling pretty good so I can do some stomach exercises without being derailed by my back. My CK readings had sky-rocketed in April, May, and June, which was a function of all the exercise I was getting with sorting, packing, and moving books. It is now down to normal.
I see that above I mentioned moving 5000 to 8000 books home from storage at the university, but failed to report that the job got done by the May 19 deadline and the maintenance crew at the university hauled over here some 59 boxes of books. Incidentally, the building they were in has now been demolished. (Below: demolition in progress.)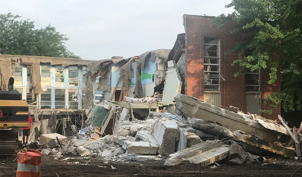 In addition, I moved 16 boxes of books to my new office in the basement of the university library, where emeriti faculty have been given a work space (and a key to the library so we can come and go as we need to). About 2/3rds of the books moved home are inside; the rest are mostly in plastic storage boxes and fairly well protected on the front porch until we get around to unpacking them.. My other son, David, and I put up some 25 book cases, so the books that I decide to keep will eventually find a home, but in time a lot of the books already shelved will have to be moved around to accommodate expanded sections. No rest for the wicked, they say.
I am getting a lot of exercise, having upped my goal from at least 5,000 steps a day to at least 10,000 steps a day. I try to get maybe 15,000 on Saturday and Sunday. 15,000 is nearly 7 miles (11 km). Last weekend I did over 15 miles (24 km). I usually walk for an hour to an hour and a half before 8 am to avoid UV rays and then top it off in the evenings. Its also cooler in the mornings. The only fly in this ointment is when it rains, but I have a pretty good weather app on my iPhone that shows when it's not supposed to be raining so I can plan accordingly. In the worst case, I can ride my stationary bicycle indoors, but haven't had to to do that much. Walking in the mornings just after sunrise is also quite pleasant and there's scarcely anyone else around.
We are still waiting for the CDC to decide if solid organ transplantees should get a third COVID19 shot since our immunosuppressant drugs apparently also suppress the formation of COVID antibodies. Good work: they're doing their job, but unfortunately this is one job that they might ease up on. A CDC advisory panel has recommended a third shot, so one would think that the CDC will move on this sooner than later.
Otherwise, summer has been pleasant. When its hot, inside is nicely air conditioned. I am getting a fair amount of research and writing done, and Jean has excellent flower gardens and a nice vegetable plot in the back yard. Somehow home grown tomatoes seem to taste better than ones bought in the store. The rabbits think so as well, so in the end, we have had to put a fence clear around the garden. In the morning, I can sit on the back patio since the sun is in front; and in the afternoon, I can sit on the front porch since the sun is in the back (you, of course, could have figured that out for yourself).
Thank you again for your prayers and best wishes. Some have commended Paco and I for our courage in undergoing the transplant, but I have to say that given how streamlined this procedure has become, I don't feel anything exceptional on my part. (Paco's generosity is another matter.) Getting a transplant is nowhere as difficult as the situations being faced by a person with cancer or with an amputation or any number of other afflictions that really require resilience, courage, and fortitude. Look around you: there are likely numerous people who not only deserve but need your sympathy and care. Maybe you could visit someone you know that really is dealing heroically with health issues, or at least give them a call or send them a card of encouragement. And don't forget to sign up to be an organ donor! Without volunteers, something as simple as a kidney transplant, could become a life and death crisis.
Best wishes to you all. Have an enjoyable summer.
END OF PART I